New MW3 Spec Ops Information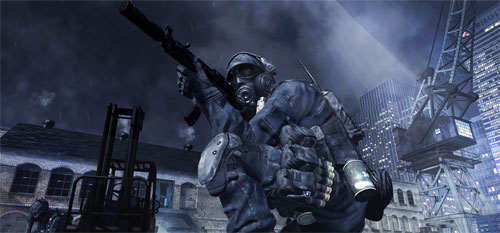 USA Today has gained an exclusive look at Modern Warfare 3's Spec Ops game mode. In summary, Spec Ops gets its own progressive ranking system, online matchmaking system and leaderboards. You can use the in-game currency to buy, for example, turrets to keep the enemies at bay.

The Spec Ops in MW3 will also feature a new "survival mode" with unlimited levels, which is pretty much like the Zombie Mode from Treyarch's Call of Duty games, without the zombies. As you progress, the enemy waves get bigger and badder, for instance, normal attack dogs later become suicide bomber dogs that explode - there will also be kamikaze soldiers.Robert Bowling: "Obviously how you fight the kamikaze dudes is different from how you fight the normal dudes and how you fight a dog is different from a dude and how you fight juggernauts, they are not only big and armored, so they will just brute force come at you. But they each have their own way of being taken out effectively."Apparently the Juggernauts from Modern Warfare 2 will be making a return, but there will also be different types of them, too. The teams behind MW3 have really stepped up this time and it looks like the Spec Ops game mode seems to be shaping up pretty well.