Call of Duty: Modern Warfare 3 - PC Information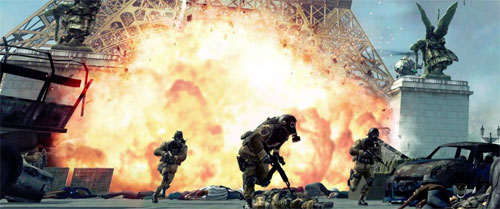 The system requirements for Modern Warfare 3 have gone up since Modern Warfare 2. If your PC is able to run Black Ops, it shouldn't have any trouble running MW3 since the requirements are pretty much the same. Here are the official system requirements to be able to run MW3:
| | |
| --- | --- |
| OS: | Windows XP / Vista / 7 (Windows 95/98/ME/2000 are unsupported) |
| Processor: | Intel Core 2 Duo E6600 or AMD Phenom X38750 processor or better |
| Memory: | 2GB RAM |
| Video Card: | NVIDIA GeForce 8600GT / ATI Radeon X1950 or better |
| Sound Card: | DirectX 9.0C or later |
Here's a quick summary of everything that's known about the PC version of MW3. The Xbox 360 and PlayStation 3 versions might not include everything that's listed below.


Supports both dedicated servers and matchmaking.
Only public matchmaking games are ranked - dedicated servers are unranked.

This means you need to play using the matchmaking system to rank up and unlock weapons, etc.
On (unranked) dedicated servers the admin controls what are locked and unlocked.

Lean has been removed.
Steam VAC is used as anti-cheat.
Mod tools aren't confirmed, but might be released at a later date.
Private Matches are back and can be fully customized with class restrictions and custom game modes.
Extensive graphic options are available: modify DOF, anti-aliasing, texture resolution and more.
Dedicated servers can be controlled by using RCON, for example, kicking and banning players.
Call of Duty: Black Ops II will also be featuring dedicated ranked servers.
Fully integrated with Steamworks, which enables the Steam Friends List, Server Browser and Achievements.
Max player count at launch is 18 players, but the number might be increased later.
There is LAN-support.