Call of Duty: Black Ops 3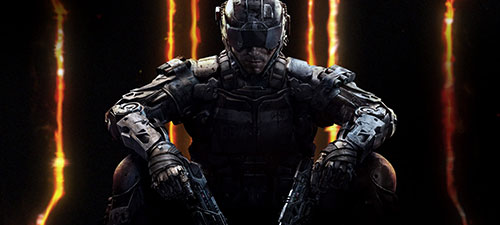 Call of Duty: Black Ops 3 is an upcoming FPS game developed by Treyarch and published by Activision. The game is a sequel to Black Ops 2 and will be released on Xbox 360, Xbox One, PS3, PS4 and PC on November 6, 2015.

Treyarch has completely overhauled the campaign, multiplayer and the Zombies mode of the bo3 game thanks to the new 3-year development cycle that was introduced last year. Zombies in BO3 will be its own game mode and has a new XP-based progression system that makes the bo3 zombies mode its "own experience" - as it's completely separated from the multiplayer gameplay.

Based on last year's Advanced Warfare, players can run on walls and boost jump across the terrain like never before. Weapons can be used while wall running, so all bo3 weapon stats have accommodated for this in their accuracy. Most of the killstreaks / scorestreaks have been rebalanced from COD: AW due to the new mechanics in the game, while some of the bo3 score streaks been upgraded with new features. For example, the Mothership killstreak can be joined in by two other teammates.

Some of the perks from previous COD titles are moved to the new Specialist character system, while most bo3 mp perks are the same as in Black Ops 2. Players can expect four bo3 dlc maps to be released in 2016; all COD: BO3 DLC updates are PlayStation exclusives for one month.